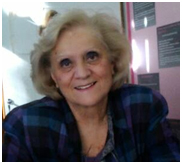 Stavroula Papadakou
Dr of Pediatrics
Medical School, University of Athens
ex. Coordinator Director Pediatric Department of Hospital
"Asklipeio Voula "
President of Greek Association of Adolescent Medicine
Vice President of Unit for the Child - Diagnosis and Therapeutics "Spyros Doxiadis"
BRIEF CURICULUM VITAE

The pediatrician Papadakou Stavroula graduated from the Medical School of Athens University and specialized in Pediatrics at 2nd Department of Pediatrics, Hospital "St. Sophia "(Director: Professor Spyros Doxiadis).

Postgraduate Studies:
1. Trainee of the Greek Psychoanalytic Psychotherapy Society during the years
1978-1979 (psychodynamic Pediatrician).
2. Happened position as Postdoctoral Fellow in Medical Genetics for two years at
Mount Sinal School of Medicine in New York.
3. Trainee as "Team Manager (Leader)" for seven years in the program "Awareness in
Dynamic Technical Group" organization of the Mental Health Center of Athens.
4. Postgraduate seminar: Principles and methods of biostatistics and epidemiological
research. Dept of Epidemiology and Biostatistics Research. Sanitary School of
Athens (3months).
5. Computer Programming and Analysis (computer sciense). Schools Doxiadis (1986)
Department Annual.
Research projects:
Career physician researcher at the Institute of Child Health, participating as principal investigator in 4 of the Child Health Institute research programmes on pathology of Thalassemia.
Specialist Pediatrician (Hematology) at Unit of Thalassemia, Pediatric Clinic of General Hospital "Aghia Sophia".
Paidiatrician - Clinical Geneticist at Department of Genetics at the Institute of Child Health (10 years).
Member of the Child Health Institute Ethics Committee. (It concerned evaluation and acceptance on research protocols at the issues of ethics research).
Scientific Coordinator to European Union Research Program of European Telemedinet 1996, Leonardo Da Vinci pilot programme.
Coordinator Director of the Pediatric Department of Asklipeio Voula from 14/11/85 to 31/12/13.
Scientific Publications Greek and Foreign Languages,
Scientific Publications and Articles in Books:
Since 1985 has been a member of conferences organizational committees - Greek and international - in the field of Pediatrics (Social Pediatrics, Developmental Pediatrics, Infections) and Adolescent Medicine-Genetics-Telemedicine, as well as speaker and coordinator at roundtables or sessions. She has participated as a participant in many conferences, Greek and International with the relevant above thematic announcements and has been awarded at 15 of them.
Scientific announcements – Presentations – Lectures – abstracts totaly number up to 147.
The spectrum of authorship work till today includes 51 Articles in Greek and International journals, 226 Announcements and Presentations – Lectures – participations in relevant conferences.
In the entirety of publications there are 157 references to citation index till now days.
Participation in scientific associations:
1. Full member of the Society of Pediatrics
2. Full Member in the Hematology Society
3. Founding member of the Association of Medical Geneticists Greece (member of
the Board and Vice President for two consecutive Boards)
4. Founding member of the Greek Society of Pediatric Hematology
5. Founding member of the Greek Society of Adolescent Medicine.
6. Full member of the European Society of Human Genetics.
7. Full member of the Greek Virologic Society.
8. Full member of the Greek Medical Society.
9. Full member of European Sociology.
10. Full member of the Association of Medical Ethics.
11. Founding member of the Research Institute for Child – "Spyros Doxiadis"
12. Founding member of HOME- START.
13. Full member of the European Society of Social Pediatrics ESSOP
14. Founding member of the International Society of Social Pediatrics ISSOP